ESG and safety in the Personal Care, Fabric Softeners and Plastic additives: interview with Ruggero Sala
Let's talk about ESG, Sustainability and Safety with Ruggero Sala (VP Sales and Marketing Personal Care, Fabric Softeners and Plastic Additives)
June 1, 2022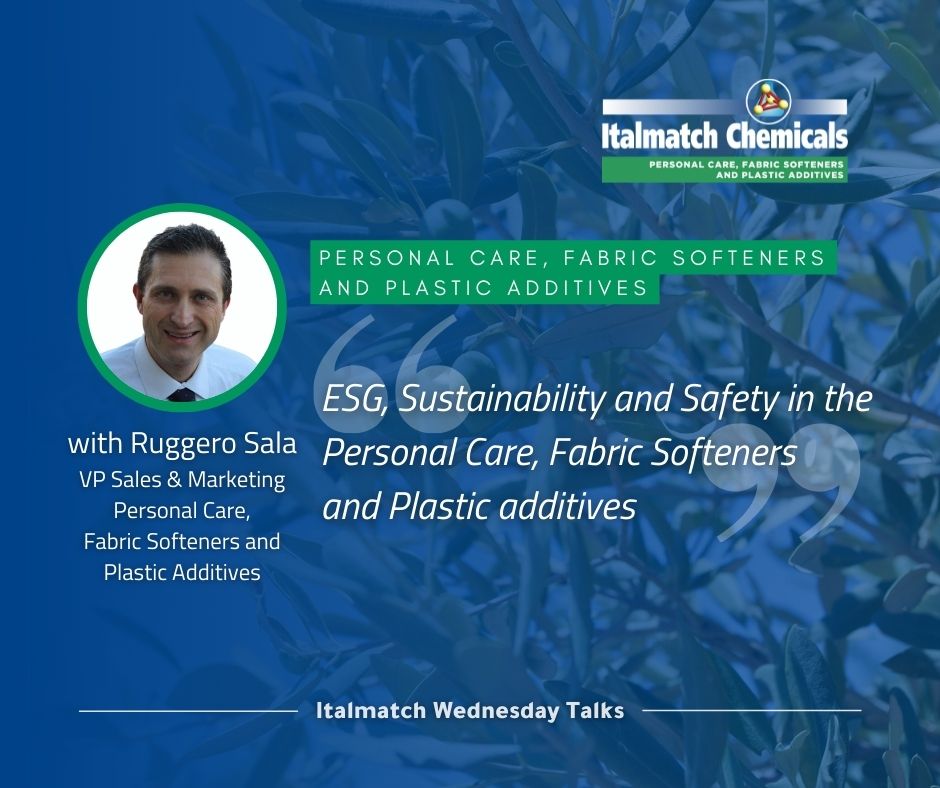 ESG is today one of the main drivers for chemical industries. Commitment towards sustainability and safety-related issues is constantly increasing. Specialty chemistry players worldwide are in fact evolving their offering to cope with Environmental, Social and Governance standards. Personal Care, Fabric Softeners and Plastic Additives business unit is also working on this field, to improve their products and make them even more green and safe. We discuss about these topics and CSP's formulations latest improvements with Ruggero Sala, Vice President Sales and Marketing.
What were the latest updates related to the Environmental impact of the CSP products?
Our commitment to reducing our environmental impact affects all aspects of our work, from manufacturing to R&D. We offer a growing number of 100% Vegetal origin products for all the end markets we serve: construction, household, lubricants, personal care, pharmaceuticals, plastics & rubber, including a range of Palm-Free products and RSPO MB grade products. Some of them also obtained Cosmos approval. Most of our products are readily biodegradable. Our laboratories have worked to develop natural and environmentally friendly raw materials to provide a green alternative to the most used PEGs and other ethoxylates in their various applications.
What is CSP doing on water and energy consumption?
Approximately 90% of our products do not contain water. Moreover, thanks to our new ingredients, our laboratories have developed formulations for solid products, which can be transported and used without plastic packaging and which save water (e.g. shampoos, which are usually 80% water). Talking about solid cleansers, these are very trendy products nowadays thanks to the extreme level of concentration and the possibility to reduce the use of plastic: since they can easily pack in paper-based packaging they don't need plastic bottles. Thanks to our ingredients it is possible to develop formulations with high flexibility and possibilities of personalization compared to those with traditional ingredients. As far as energy consumption we have developed several emulsifiers – all with Cosmos approval – which can be used cold, in order to reduce the energy wasted in the production process of the final cosmetics. Our product range includes many liquid (water-free) products, which require less energy to be produced as they do not need drying process.
And what about safety?
Many of our products meet a variety of international standards, for example: food contact in plastics (legislation 10/2011 in EU), the CFR indicated in the FDA, Toys, RoHS, California Proposition 65, as well as the European Pharmacopoeia. Most of them are not classified according to CLP/GHS Regulation, so they are safe for human and the environment. One of the latest developments is an esterquat which is not labelled ADR. This makes it safer to transport and handle by our customers.
Ruggero Sala is an internationally experienced Sales and Marketing professional with management capability. Passionate about managing people and enjoy the "art of selling" and the new "marketing frontiers". After an initial career in Sealed Air Corporation as member of the technical team he covered many positions in Dow Corning as sales and marketing. He joined Italmatch in 2013 with the responsibility of developing the life science and oleochemicals markets.