Italmatch R&D in the Personal Care and new PEG-free emulsifiers: interview with Fabio Costiniti
R&D developments for Italmatch polyglyceryl esters line and latest developments from our team: read the interview with Fabio Costiniti (Global Business & Technical Development Manager Cleaning and ­Personal Care)
October 5, 2022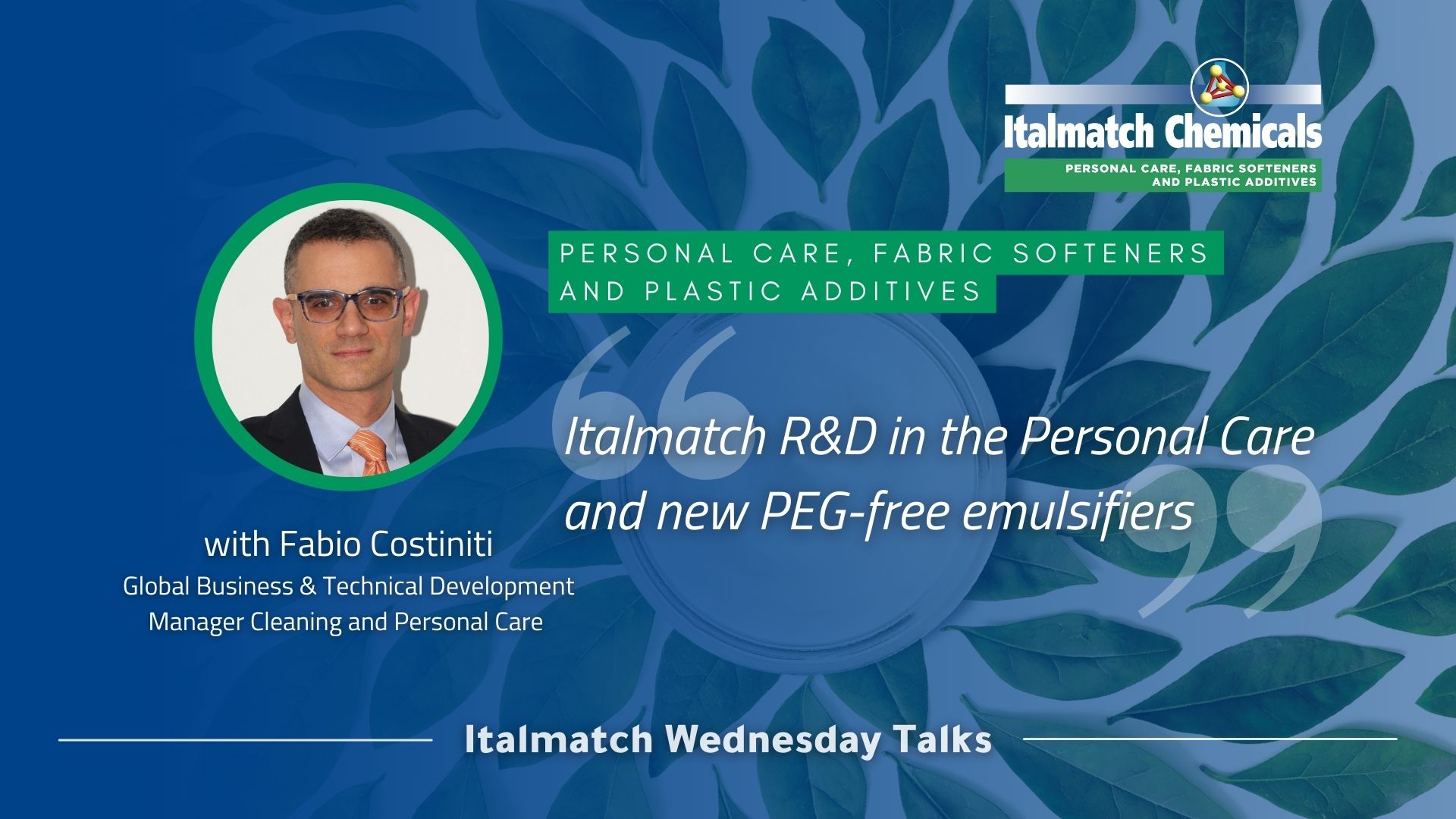 Research & Development and new chemistries for Italmatch Chemicals Personal Care, Fabric Softeners and Plastic Additives portfolio. Our R&D team works every day to develop innovative formulations and strengthen our offering of sustainable products for the Personal Care and Cosmetics markets. Today we discussed about these topics, recent developments in the Dapracare portfolio and benefits of our new Polyglyceryl Esters PEG-free emulsifiers line with Fabio Costiniti, Global Business & Technical Development Manager Cleaning and ­Personal Care.
Fabio, what were the latest results for Italmatch R&D in the cosmetics/personal care market?
Italmatch has recently strengthened its portfolio for the cosmetic market thanks to the development of two new products. Under the trade names of Dapracare PEDS and PETS (di-ester and tetra-ester structure based special waxes) these new additions in our catalogue are ideal to create more flexible personal care formulations due to their versatility as emulsifiers/co–emulsifiers compared to traditional materials. This results in the possibility to use them for different end applications and with several benefits. With regards of colour cosmetics formulations, they can be utilized for consistency purposes in emulsions or to disperse pigments, lakes and Titanium Dioxide to boost efficiency of the formulation. Additional properties for colour cosmetics are sensorial modification and the improvement of adhesion and coverage, among other effects. These products can also be used to create silky cream to powder foundations – with benefits from consistency to resistance of the formulations – and can also be employed with great performances for BB creams, foundations, mascaras, lipsticks and lip glosses.
CSP has also recently developed a new polyglyceryl esters product line. Which applications and features do they have?
Our polyglyceryl esters products can be used to develop both skin care and colour cosmetics formulations thanks to their emulsifying effects. For instance, Dapracare PG3DI MB and Dapracare PG4I MB are perfect both in typical emulsions and in anhydrous formulations. They allow to create dry touch W/O emulsions and provide a wide range of benefits for skin care, colour cosmetics and cleansing products, such as emollience, water resistance and refatting of the skin effects. They are also ideal for other kind of cosmetics, like lipsticks and cream to powder foundations, providing creamy texture and pigment dispersion results. Also, to provide solubilization to the formulations, Dapracare PG4C is the product of choice: a best-in-class and environmentally friendly solubilizer and emulsifier that can be used in manufacturing processes at low temperatures.
Are polyglyceryl derivatives sustainable? What raw material are they from?
Since they are PEG-free and they not contain EO, Polyglyceryl esters are indeed very green raw materials. As an example, they boast Mass Balance and COSMOS certifications. Our Business Unit proudly offers to the customers Dapracare PG esters line, which is derived from natural origin, coming from 100% vegetable source. Their production also results in a CO2 emissions reduction, being manufactured at low temperatures. From a sustainability point of view, these products can also be even more green and environmentally friendly. As a matter of fact, these can be used as solubilizers in many formulations instead of other ingredients based on PEG and EO.
If you want to learn more about our latest innovations and products for Personal Care and Cosmetics market, come and join us at SEPAWA 2022 Congress: we look forward to meeting you in person at our booth D610-611. More information >
Fabio Costiniti is a formulator with more than 15 years of experience. He graduated in Pharmaceutical Chemistry and Technology in 2003, after the studies he joined Reckitt, covering project leader positions in different products categories before joining Italmatch; he's inventor in several patents in the cleaning field and has a genuine passion for the development of consumer goods. He joined Italmatch in 2014 with the responsibility to monitor the global market and develop new raw materials for the cleaning and personal care segments covering technical development, business development, marketing and sales roles.